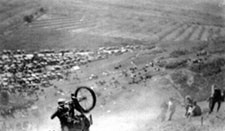 San Juan Capistrano has earned worldwide recognition because of the beautiful historical Mission San Juan Capsitrano. The famed workings of father Junipero Serra in his conversion of the Juaneno Indians to Catholicism. Los Rios Street proudly displays one of the oldest streets in Southern California, which also brings visitors from far and wide to indulge in its old time flavor. And yet, there is another history making event that San Juan Capistrano harbors. It's the story of Motorcycle Hill.
On the southern edge of town, stood an imposing hill that was often referred to as "Gibraltar of the Pacific Coast." This rugged terrain was conquered on March 18, 1917 by a fearless group of motorcycle enthusiasts who were adventurous enough to try. And, it was done one day before the famed "return of the swallows." People came from all over to witness both events. San Juan was a beehive of activity and the streets were alive with happy celebrators.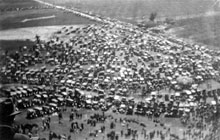 It is recorded that 7500 people, 1070 cars and approximately the same amount of motorcycles that were present to witness the siege of the notorious hill. Headlines read "Lambert on Excelsior Conquers 'Invincible' Capistrano." Local Santa Ana resident Calvin Lambert rode a 3-speed series 18 Excelsior up the hill. He was the enviable first. Even as the crowd watched him disappear over the top, they still couldn't believe what they saw. Aghast, they were forced to recognize what an epochal feat they had witnessed. Nothing on wheels had ever taken Motorcycle Hill before. Both spectators and participants watched history unfold before their very eyes.
Lambert won $25 for the "Free for All" and $50 for the "Stock Three-Speeds." Other competitive bikes included Hendersons, Eagles and Indians. Today's popular favorite Harley Davidson had a single entry that was expected to produce a stronger effort. But it became a negligible factor. The Thore was another bike that was well known before the event, but it received no mention.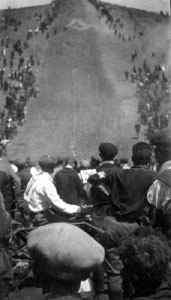 What's left of the notorious Motorcycle Hill can be seen from the parking lot of Costco on Doheny Park Road. Just look towards the Amoco shop above the freeway and there it is. When the I-5 was built, much of the hill was cut away. A developer of new homes is slowly reducing what remains.
If you hurry, you can still catch a glimpse. You too can see yet another of San Juan Capistrano's little famous sights that makes this town so rich in history and old time flavor. Come join us in enjoying the Legend of Old Motorcycle Hill.